CV-Library jobs in the UK
CV-Library Jobs is fast becoming the number 1 job site in the UK. You can also upload your CV to be headhunted by thousands of companies, and apply to hundreds of thousands of current jobs with 1-click apply.

Start your job search from thousands of new job vacancies with CV-Library Jobs.
Register your CV online with CV-Library.co.uk. Receive jobs by email and apply for jobs today.
Job Alerts
Get the latest CV-Library Jobs sent directly to your inbox with CV-Library.co.uk's Job Alerts.
Course Library
Visit our new section to find courses from leading training providers
Post Job Vacancies online
Employers looking for staff can upload their latest job openings.
Career advice
Expert career tips, including CV and interview advice, helping you get your next job.
CV-Library Job search app
Download the CV-Library app for iPhone, iPad and Android to search
Upload Your CV
The UK's favorite job board
CV-Library is the UK's fastest-growing job site, with hundreds of thousands of active job vacancies across all industries.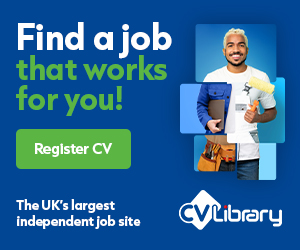 To upload your CV to the CV-Library you should already have a CV-Library account: Log in to CV-Library via a mobile device, go to 'Modify Profile', and scroll down to 'Your CV'. Select either 'Dropbox' or 'Google Drive'. You will then be taken to either Dropbox.com or Accounts.Google.com where you can log in and choose your file.
Advertise your jobs to millions of monthly users and search 12.4 million CVs in the jobs database.